Nike Shares Hits All Time High After Kaepernick Ad
Despite the calls for boyscott, Nike's shares have hit an all time high, closing at $83.47 a mere ten days after the release od the controversial ad that features Kaepernick.
While it will take months or even a year to measure the real impact of Nike's move to collaborate with Kaepernick, early signs and data shows the the move will shield positive marks as sales are currently better than they were for the same period last week.
This is despite calls for protest by some, with some going ahead to even burn their Nike apparels.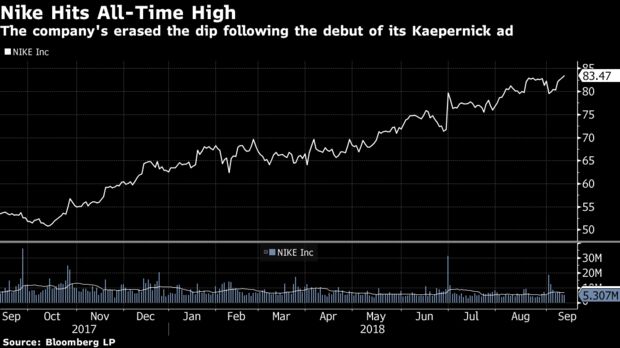 Sales after labor day, the first full day after the ad went viral showed sales were up 22% higher than the same day in 2017, and went up to 42% the next day and remained above last years figures throughout the course of the week.
While gauging sales through online sales only might not paint the overall pictures, as it doesn't put into cognizance the sales from physical stores, which many believe is the preferred medium for some of them, the hike in the sales and its percentage increase bodes well for Nike.
Leave a Comment