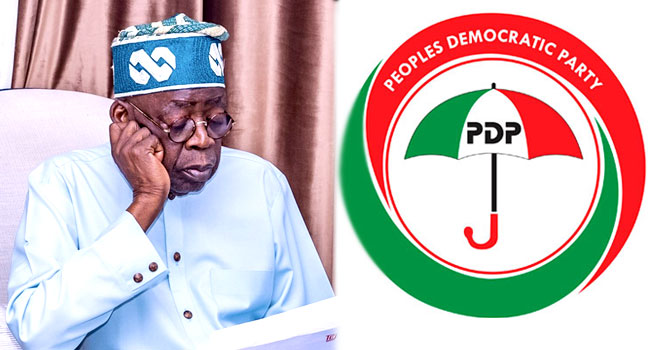 The main opposition party noted that Nigerians are appalled by yet another attempt by Tinubu, to divert attention from the main issues of the failures of the APC government by making derogatory remarks about the PDP.
?
''Unlike the APC that is dead, the PDP is not only alive and existing as acknowledged by Asiwaju Tinubu in his statement, but also strong, united, and focused on its mission to Rescue, Rebuild and Redirect our nation from the misrule of the APC.?
National Publicity Secretary of the PDP, Debo Ologunagba, said this in a statement, in Abuja, yesterday, in reaction to Tinubu's comment that he is surprised the PDP still exists as a political party.
?
"From his incoherent discourse, the APC Presidential Candidate appears to be battling with issues of ethical challenges and ineligibility to contest election on account of inconsistencies in his educational qualifications, name, ancestry, age, corruption allegations among myriads of issues.?
?
"Nigerians gave Asiwaju Ahmed Tinubu the benefit of the doubt but he failed them by engineering a deceitful government leading to the ugly indices of insecurity and bloodletting, economic hardship, unemployment, disunity, and low life expectancy imposed on our nation in the last seven years.?
?
"He should know that Nigerians are aware that he is in the Presidential race not to serve but to gain control of the nation's treasury so as to expand his exploitative enterprise and economic empire beyond Lagos State.?
?
"Asiwaju is huge baggage to the APC. He should know that because of him there is a daily exodus of millions of APC members across the country into the PDP.
Source: Guardian
Leave a Comment