Olayinka Becomes Slavia Prague's Joint Top Scorer In UEFA Competitions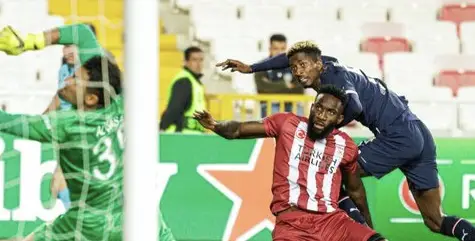 Playing in their first group game, Olayinka broke the deadlock in the fourth minute and also recorded his 12th goal for the Czech Republic side in European competitions.
With his 12th goal against Sivasspor Olayinka is now the joint top scorer of the Red-Whites in European games.
He is now equal with Tomáš Došek who played for Slavia between 1999 and 2004.
Olayinka is also the most capped Slavia player in the European cups. The game against Sivasspor was his 50th for the Red-Whites in Europe.
And speaking on his latest achievement, Olayinka said: "I remember when I came here, it all started in 2018, I just wanted to play, to help the team. And I am just lucky. I am proud to be Slavia's top scorer, it's great for me and for the team as well. They helped me to achieve this, so, many thanks to everyone.
"I think we were a little bit unlucky. We fought hard till the end, and everyone put in 100%, even more. This was the first game, and we could win to boost our confidence, but now we know we have a lot of work to do as it is not an easy group for us. We need to focus on the next game."
Source: Complete Sports
Leave a Comment