Lagos Impounds 322 Okadas, Warns Passengers Risk 3-Month Jail Term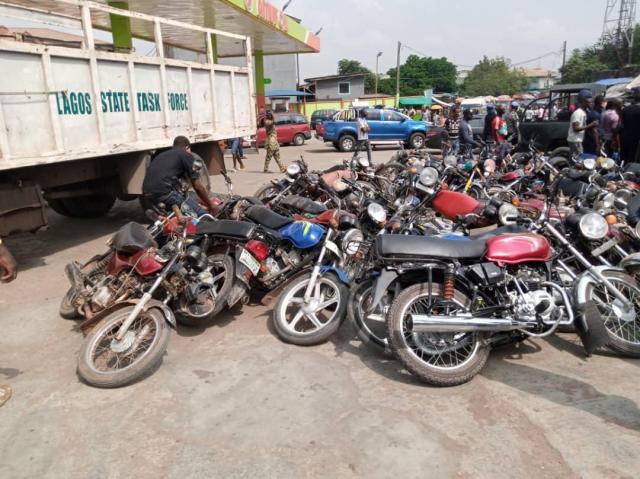 The exercise spearheaded by the chairman of the Agency, Chief Superintendent of Police (CSP), Shola Jejeloye, took place in Agege/Fagba, Apapa, and Ajah, where pockets of activities by Okada operators had been seen and reported to the Agency.
Speaking of the incidents, Jejeloye pledged that all impounded motorcycles will be crushed, while those who failed to adhere to the ban will be caught.
He said: "We have carried out marathon raids across the state because sightings have been made of pockets of Okada operations in some of the areas visited, mostly in the evenings and during the day to ensure that the ban on their activities is completely accomplished.
"A total number of 322 motorcycles have been seized since the outset of the week-long raid.
"More raids will be carried out in the coming days and we will ensure that we hit them in their fortresses and cripple their activities. No commercial motorcycle operator, violating the State's Traffic Laws will be spared till total compliance is attained."
Jejeloye urged Lagosians in the habit of patronizing Okada operators to desist forthwith, to avoid being arrested and prosecuted.
"Both passengers and riders are guilty if found operating on restricted routes. Both face a penalty of either three months jail terms, an N50,000 fine by the court, or both if found guilty.
"Residents should adopt alternative means of transportation which are safer, more presentable, and in line with the state's vision of being one of the top metropolitan cities in the world," he enlarged.
Leave a Comment