Alex Iwobi: Arsenal youngster on his new-found fame and making the grade at the Emirates
From the Emirates Stadium to Nigeria to visiting his younger sister at university, everywhere Alex Iwobi goes now he is confronted by just how famous he is. He is still just 20 years old, still just over 13 months on from his Arsenal debut. But everything has moved so fast that Iwobi is now coming to terms with the fact that he is one of the best-known 20-year-olds in the world.
Once he was walking away from the Emirates when a fan recognised him and started following, calling out 'Iwobi! Iwobi!'. "It was crazy, I was getting worried," Iwobi recalls. "I had to take a detour, for about 20 minutes. It was a bit too much."
Then there was the time that Iwobi was buying some trainers in a shop, a fan saw him and started doing his trademark goal celebration. "That was mad," he laughs, "it was funny."
Or the more regular occurrence of going out to eat with friends and being recognised. That, he says, is the only thing he finds "difficult" about his new status. "That takes getting used to," he admits. "I seem to be like a hero to people, it's crazy."
Iwobi laughs about the fact that, when he goes to visit his younger sister Marie at university, he puts his hood up to "go disguised", so he can enjoy his time with her as far as possible. She is only one year younger than him and the two are very close.
None of the attention he receives in London, though, is anywhere near comparable to the scenes in Lagos, the city of his birth, the capital of Nigeria, the country for whom he plays international football. When Iwobi first flew back there, after a long time away, he was shocked by the airport reception he received.
"I didn't know what to expect, and when I went back, Nigeria was very, very different," he says. "Everyone appreciates you, you're almost like a king. When I went through the airport I thought I could just have my earphones in. But everyone was like 'Iwobi! Iwobi!'" He gives a nervous wave and grin, 'oh gosh, hi guys'. "I didn't know what to expect. The way they treat footballers, they're like kings." The fans don't ask for autographs or selfies either, as they do here, but for football boots or even money. "It's very different, it's just crazy."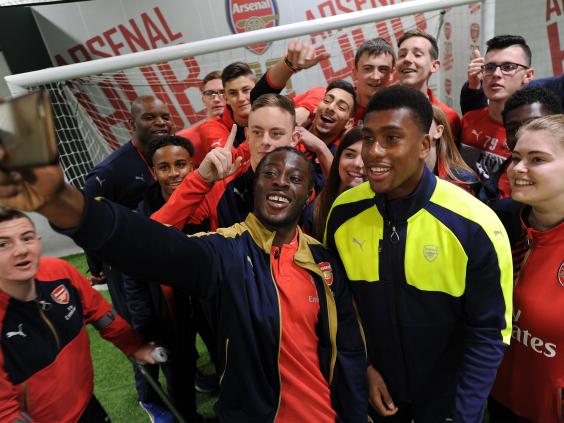 This relentless intense attention, exploding over the last year, would be enough to throw many young men. Fortunately, Iwobi is as relaxed, engaging and genuine as any 20-year-old could be in these circumstances. He insists that he is "grounded" and "level-headed", but those descriptions sound right when he says them. He is certainly not closed off to other people, even if he does sometimes find the attention a bit much.
Iwobi has spent time recently with the Arsenal Foundation, who provide football facilities for the underprivileged in north London and abroad. He was touched to meet young men his age who have run into difficulty, whose lives were being helped back in the right direction. "It made me think about what Arsenal have done for me," he says, "and what they do for others in their lives too."
Arsenal have done a lot for Iwobi, but he has had to work very hard for it too. He started training with the club at the age of six, and his first team was the under-9s. He was an Arsenal fan as a boy and only ever wanted to play for them.
But when Iwobi was 14 his development was stalling and Liam Brady, then the director of the Arsenal academy, called him in for a meeting. "He said that I wasn't as big, fast or strong as everyone else, that there were question marks on me and my ability, and that I wasn't imposing myself on games as I should."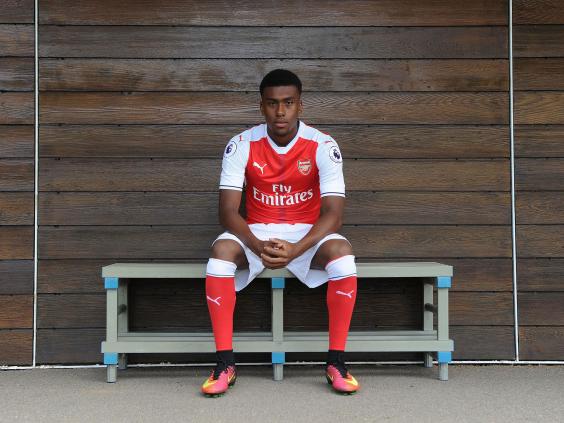 Iwobi was worried. He knows how close he was to being released. It affected his schoolwork, as he was busy thinking what he would have to do to make the grade at Arsenal. He started doing extra sessions with his dad and his friends, "just to improve myself physically as well as technically". His mum made him do extra kick-ups in the living room. But it worked, and Iwobi stayed, just as he did again at 16 when there was a possibility to leave.
Iwobi's progression was steady, rather than explosive, but he first sensed that the management was interested in him in 2014-15, when he was playing for the Under-21s. "The manager kept moving me to different positions to get experience," Iwobi recalls. "Experience on how to play centre mid, or up front." Steve Bould told Iwobi that if he could adapt his game to any position, it would stand him in good stead.
So it proved, and Iwobi was always powerfully encouraged to play his natural game – fast, instinctive and incisive – by the men who mattered most. Thierry Henry, when he was coaching at the club, told him "to be positive with the ball, not negative, don't be shy, scared or nervous". Wenger told him just to "relax" and enjoy his football as much as possible.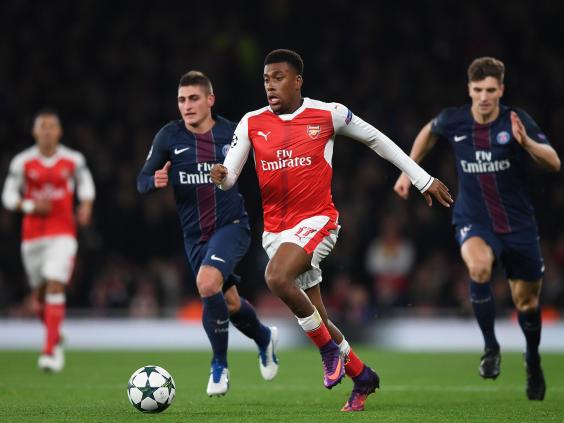 This was the positive environment that 19-year-old Iwobi stepped into at the start of last season. What has been most impressive is how natural he has looked in the senior environment, like a player who raises his level to match those around him. Wenger has always said that Iwobi's "decision making at speed" was his great strength, and that makes him a perfect team-mate alongside players like Mesut Ozil and Alexis Sanchez.
When Iwobi played at the Nou Camp in March it was just his sixth senior start but he did well enough to show he could compete at the top level. "I was a bit nervous, but excited, and buzzing to play," he says. "Then when I started playing, and everything just went, I was confident and enjoyed my time. The fact that I did ok against one of the best teams in the world made believe then maybe I could do well against any other team."
Now Iwobi is a regular starter, and is on bantering terms with the top players at the club. Sanchez teases him about the accuracy of his shooting in training. Ozil makes Iwobi call him "boss" after the assist he provided in Basel on Tuesday night. He is part of the team, even if at times he still feels like the youngster from Plaistow who watched clips of the Invincibles on YouTube because they were just beyond the reach of his memory. "Some of the players Arsenal used to have were scary," he says. "But with the quality we now have, this could be our year."
Curled from http://www.independent.co.uk/sport/football/premier-league/arsenal-news-latest-alex-iwobi-interview-premier-league-a7464966.html
Leave a Comment