Kidnappers and Armed Robbers' house & mosque demolished by Governor of Kogi State
The Kogi State government has demolished a storey building in Okene, known as the hideout of kidnappers and armed robbers.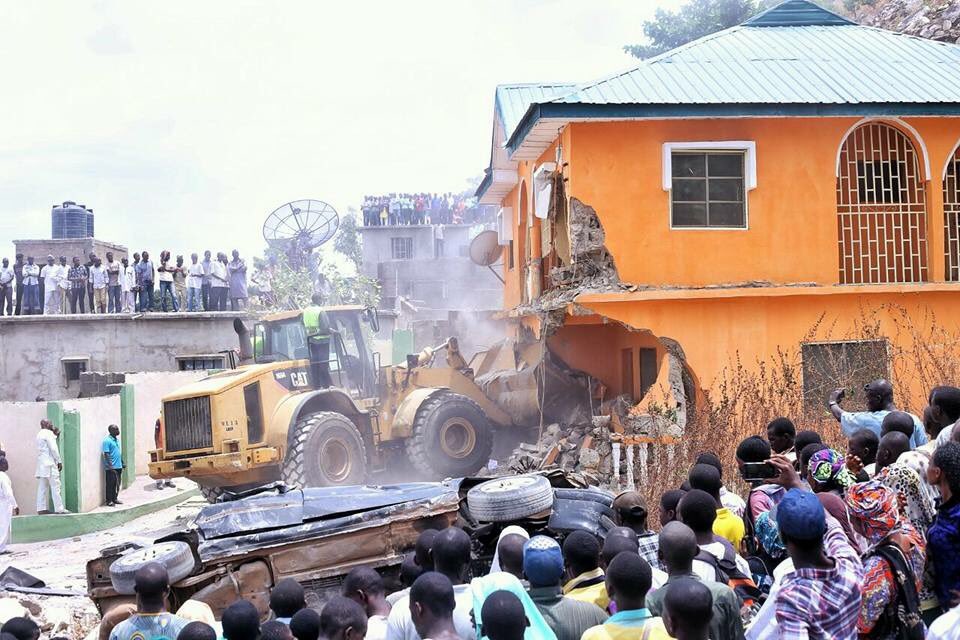 The house is said to be owned by a kidnap kingpin, .Tijani Abubakar.
A mosque owned by a suspected group was also demolished by the state government, Governor Yahaya Bello supervised the demolition of the buildings. This is in line with the state's law on terrorism.
The building belonging to Abubakar at Oyunkoko Ward in Okene Local Government was the first to be demolished at about 2:30pm yesterday.
The mosque belonging to the notorious Ahlul-Sunnah in Inike, also in Okene, was demolished later.
The mosque was said to have been hijacked by the notorious terrorists group, Boko Haram in 2015 and had been serving as their operational base.
The buildings were identified by the Military Joint Task Force which recently arrested some 17 robbery, kidnap and terrorism suspects.
The Commissioner of Police in the state, Wilson Inalegwu and heads of other security agencies, accompanied the governor during the demolition.
The police chief said "This is a strong message to kidnappers and hoodlums that they must change their ways. They should work hard and earn a decent living. We want to make Kogi safe so that those living here or travelling through will not have fear of being kidnapped.''
Leave a Comment