Paris Jackson Rushed To The Hospital For Possible Suicide Attempt
Paris Jackson was reportedly just rushed to the hospital for a possible suicide attempt.
15-year-old Paris Jackson, who recently made headlines for the punk-rock new look she's sporting, is currently being hospitalized after a reported suicide attempt.
According to TMZ, Paris was carried out of her Calabassas home on a stretcher.  And according to the 9-1-1 caller, Paris had slit her wrists.
She tweeted last night words to a Beatles song and a few other things that signal she was in a sad mood: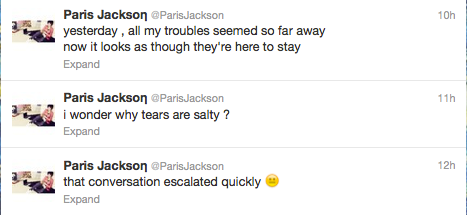 According to  TMZ,  she has "tried this [a possible suicide attempt] in the past" but "this was far more serious. It was not a cry for help."
TMZ says they spoke to a source close to the family who says Paris threw a fit and locked herself in her room last night when she was told she couldn't go to a Marilyn Manson concert.
Pics have surfaced from last week showing Paris with scars from what looks like "cutting" on her wrists.
Katherine Jackson put out an official statement today saying, "What a sad situation.  Being a sensitive 15 year old is difficult no matter who you are. It is especially difficult when you lose the person closest to you. Paris is physically fine and is getting appropriate medical attention. Please respect her privacy and the family's privacy."
Leave a Comment