Republican White House candidate Donald Trump has confirmed Indiana Governor Mike Pence as his vice presidential running mate.
Mr Pence, 57, is seen as more socially conservative than Mr Trump and has previously disagreed with the businessman on his proposed Muslim ban and trade.
But the former talk-radio host is popular with Christian conservatives and could help rally party loyalists behind the Trump campaign ahead of November's election.
Mr Trump, 70, confirmed his choice in a tweet on Friday morning, saying: "I am pleased to announce that I have chosen Governor Mike Pence as my Vice Presidential running mate."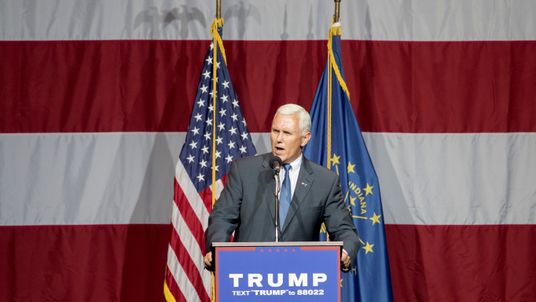 The tycoon said he would hold a news conference on Saturday morning after postponing a Friday event to announce his decision following the deadly truck attack in Nice, France.
Mr Pence said on Twitter he was honoured to join the Trump campaign and to "work to make American great again".
The Indiana governor is a former House Republican speaker who is seen as a safe pair of hands and brings important executive experience to the ticket.
His appointment could allay conservative concerns that Mr Trump, who has never held elected office, lacks the skills to navigate Congress.
Democratic White House candidate Hillary Clinton's presidential campaign said Mr Trump had picked "an incredibly divisive and unpopular figure".
The Clinton team said the Indiana governor led the fight to restrict abortion rights and has opposed raising the federal minimum wage.
Mr Pence has not always supported Mr Trump's policy ideas.
In December, the Indiana governor joined criticism of Mr Trump's proposal to temporarily ban Muslims from entering the US.
"Calls to ban Muslims from entering the US are offensive and unconstitutional," he tweeted.
On trade, while Mr Trump presents himself as a staunch protectionist, Mr Pence has been a champion of free trade deals.
In a Fox News interview on Thursday night, Mr Trump said of all the people he had interviewed for the job, "there's nobody that agrees with me fully on everything".
The New York property magnate chose Mr Pence from a shortlist that included former House of Representatives Speaker Newt Gingrich and New Jersey Governor Chris Christie.
Mr Trump is set to be formally nominated as the party's candidate for the presidential election at the Republican convention in Cleveland, Ohio, which starts on Sunday.