The England Manager earlier today downplayed the reports in the Press that there is a rift between Manchester United forward, Wayne Rooney and Leicester City forward, Jamie Vardy who are both in the England squad for the on going Euro Cup. According to the Manager, both players are very good friends ad getting along well everyday.
And Hodgson added that his squad are fully focused on Monday's round-of-16 clash against an Iceland team who he thinks will be "very hard to beat".
In the pre-match press conference, it was put to captain Rooney that he and Vardy had discussed the high Twitter profile of Vardy's wife Rebekah, but Hodgson jumped in to dismiss the question as absurd.
"I haven't got a clue what you are referring to," said the England boss.
"There are absolutely no problems in football terms between Wayne Rooney and Jamie Vardy, in fact quite the reverse, they are very close friends, both on the field and off the field.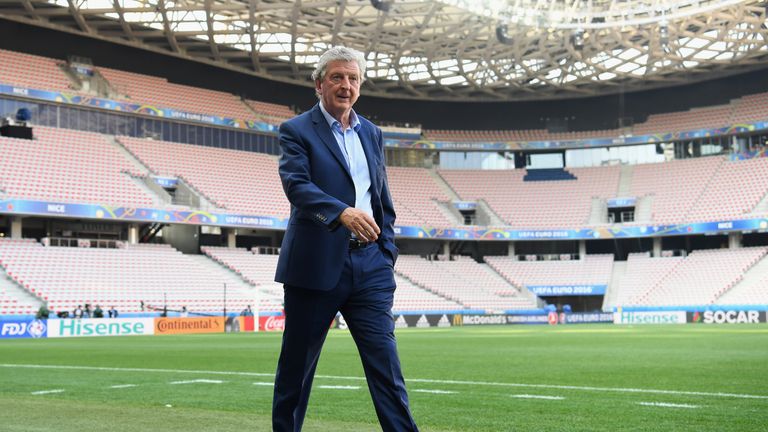 "I have got no idea what you are referring to and I certainly would advise Wayne to give no comment to it, because it is obviously one salacious story that someone has managed to spin.
"It is of no interest to us."
Hodgson knows his side will be expected to defeat Iceland on Monday and set up a quarter-final against hosts France next Sunday night.
"But the England boss says he has plenty of admiration for Monday's opponents, who made history simply by qualifying for the event and advanced into the knockout stages after finishing second in Group F.
Hodgson said: "I think they owe a great debt to [manager] Lars Lagerback. I don't know the young Icelandic coach [Heimir Hallgrimsson] but I am sure he has played a big part as well.
"They have the ability to organise a team, get the maximum out of them and make them unbelievably difficult to beat, and also to engender a work ethic which is not seen every day.
The character of the Icelandic people, their determination, their ability to survive through hardships – I am certain that has been a major factor in their progress as well.
"We find ourselves getting ready to play them and we will have to accept the title of favourites, and they can go into the game as underdogs.
"But we know, perfectly well, that whether we title them favourites or underdogs, it is going to be a very, very difficult game for us and they are going to be a hard team to beat."
The people of Britain voted for 'Leave' in Thursday's European Union referendum and the repercussions of that decision continue to reverberate but Hodgson was adamant that his squad's preparations had not been impaired in the slightest.
"As far as Brexit is concerned, that is of great interest to the nation," he said. "But, as far as we are concerned, our concentration, as you would understand, has been purely about football.
"We voted when we could, we had our say. But the nation has had its say, we are part of the nation, and we will live with that.
"As far as football is concerned, it has not made one ha'porth of difference to our preparation for this game.
"We have just been getting on with our football lives and accepting that, back home, a major decision has been taken, which Wayne and I will live with when we get home."
Original Report by Mark Crellin