Exactly one week after we wished Pele a happy 75th birthday, it's time to celebrate a milestone of his biggest frenemy: Diego Maradona.
The Argentinian legend turned 55 on Oct. 30, giving us the opportunity to celebrate a career that has had more ups, downs, thrills, spills and crescendos than a particularly erratic roller coaster.
In lieu of a cake for El Diego's special day, we've highlighted 10 strange things you didnt know about this rare football icon.
50 FACTS ABOUT THIS SOCCER LEGEND
1. Diego Armando Maradona was born on October 30, 1960 on the outskirts of Buenos Aires.
2. Maradona made 91 appearances for Argentina, scoring 34 goals.
3. He played in four World Cup tournaments for his country.
4. He helped Boca Juniors to the league championship in 1982 before making a move to Barcelona. But in 1984, he transferred to Napoli and helped them win their only two Serie A titles to date – in 1987 and 1990.
5. Maradona holds the record for making the most number of appearances as captain of any country in a World Cup. He skippered Argentina on 16 occasions.
6. In total, however, he made 21 appearances in World Cup tournaments.
7. A 15-year-old Maradona made his professional debut on October 20, 1976 for Argentinos Juniors.
8. Maradona was part of the Argentina youth squad that won the 1979 Youth World Cup in Japan.
9. On February 27, 1977, a 16-year old Maradona made his international debut against Hungary at the Bombonera stadium in Buenas Aires.
10. He has a tattoo of Che Guevara on his arm.
11. Maradona holds the record for suffering the most number of fouls in a World Cup – 53, during the 1986 World Cup in Mexico.
12. He also holds the record for the most number of fouls suffered in one game in a World Cup, when Italy fouled him 23 times in the 1982 edition of the tournament.
13. Maradona skippered Argentina to World Cup glory in 1986, beating West Germany 3-2 in the final.
14. Diego also won the Golden Ball for being the tournament's outstanding player.
15. Diego scored using his hand in the quarter-final of the 1986 World Cup against England. When he was quizzed about the incident, he said: "The goal was scored a little bit by the hand of God, a little by the head of Maradona."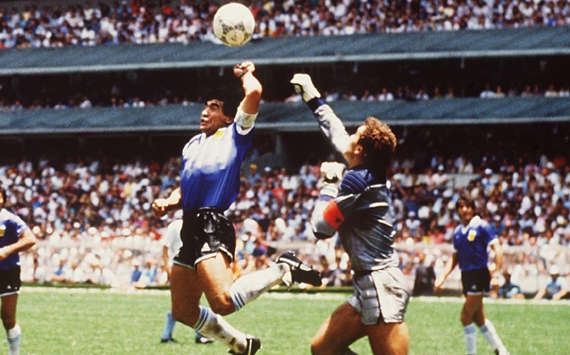 16. He won the Serie A with Napoli in 1987, a feat that would be repeated in 1990. He also won the Uefa Cup in 1989.
17. In the 1994 World Cup in USA, Maradona played only two games – scoring one goal against Greece – as he was sent home after failing a doping test.
18. Maradona married Claudia Villafane on November 7, 1989 in Buenos Aires, but the pair divorced in 2004.
19. In 2005, Maradona started hosting a talk show on Argentinian television. Pele was his main guest on his very first show.


20. Was confirmed as the manager of Argentina in October 2008.
21. During his reign as manager, Argentina equalled their worst ever defeat by losing 6-1 to Bolivia in the World Cup qualifiers. This led to Maradona taking a fair amount of criticism. And when his side did qualify for the tournament, he launched into an infamous "keep sucking" rant.
Fifa banned him for two months after the outburst.
22. Maradona's managerial debut for Argentina was on November 19, 2008. On that day, his side took on Scotland at Hampden Park and emerged victorious with a 1-0 scoreline.
23. On June 22, 2010, Maradona said of the Jabulani ball: "I would ask all Fifa directors to stop talking about me and to start working on having a proper football. This ball is useless. It's impossible to control."
24. In a press conference prior to the first knockout round in the 2010 World Cup, Maradona jumped over the barrier to embrace former Napoli team-mate Salvatore Bagni, a footballer turned pundit. Following the gregarious greeting, Bagni said: "Even knowing him as I have done all these years, Diego always does something to surprise you."
25. Maradona vehemently defended a goalless Lionel Messi on July 2, 2010, when he said: "Anyone saying he didn't have a great World Cup is an idiot."
26. Former team-mate Jorge Valdano said of him in 2006: "He is someone many people want to emulate, a controversial figure, loved, hated, who stirs great upheaval, especially in Argentina… Stressing his personal life is a mistake. Maradona has no peers inside the pitch, but he has turned his life into a show, and is now living a personal ordeal that should not be imitated."
27. The Argentine Football Association (AFA) put in a request to Fifa to retire the No.10 shirt in honour of Maradona. The request was denied.
28. Argentinos Juniors have named their stadium after Maradona – Estadio Diego Armando Maradona.
29. Maradona after beating England in the 1986 World Cup quarter-final: "It was as if we had beaten a country, more than just a football team."
30. Maradona in 1996: "I was, I am and I always will be a drug addict. A person who gets involved in drugs has to fight it every day."
31. In 2000, Fifa decided to do a one-off Player of the Century award for the new millennium. After eventually arriving at the decision that Pele and Maradona would share the award, the Brazilian said: "If he thinks he's the best player of the century that's his problem."
32. Asked once to name his starting XI in 1990, Argentina manager Carlos Bilardo famously said: "Maradona and ten others."
33. Maradona was appointed the sports vice-president of Boca Juniors in 2005. He quit a year later.
34. Serbian filmmaker Emir Kusturica has made a documentary about Maradona, which premiered at the Cannes Film Festival in 2008.
35. In 1986, former England manager Sir Bobby Robson famously said: "With Maradona, Arsenal could have won the World Cup."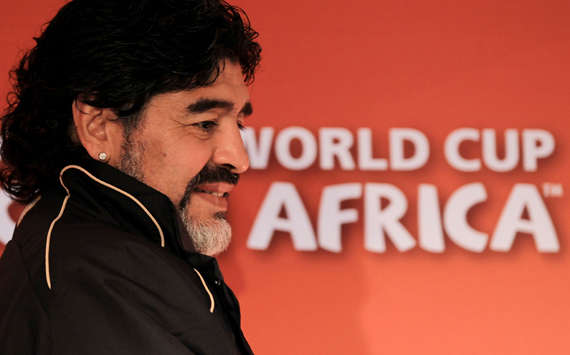 Entertaining | Maradona was one of the stars of World Cup 2010 – without even playing
36. Ex-England defender Phil Neal said of an 18-year-old Maradona in 1978: "The kid is just unbelievable – he is the best I have ever seen."
37. Fans started a "Church of Maradona" in Buenos Aires in 1998. The year is marked by Maradona's birthday every year. October 30, 2010 is 50 D.D ["despues de Diego"]," or 'After Diego'.
38. Maradona's second goal against England – which came just four minutes after the 'Hand of God' – in the quarter-final of the World Cup in 1986, saw the diminutive footballer dribble past opposition defenders to eventually beat Peter Shilton to make the score 2-0. Fifa called this the Goal of the Century.
39. Maradona has a lookalike puppet in the French show 'Les guignols de l'info'.
40. He is good friends with Cuban leader Fidel Castro.
41. Maradona had to leave Napoli in 1991 after failing a drug test for cocaine.
42. The Argentine refused to go into the opening ceremony of the 2006 World Cup in Germany, saying: "I'm not here to look at bloody Pele walking around."
43. In an ongoing war of words with the Brazilian this year, Pele said during Maradona's reign as national team boss: "But it isn't Maradona's fault. It is the fault of whoever put him in charge."
The Argentine hit back later, saying: "Pele should go back to the museum. And stay there."
44. Italian officials revealed last year that Maradona owes them €37 million (£32.2m). More than half this sum is interest on the original debt.
45. Maradona averaged 0.526 goals-per-game in domestic club competitions.
46. He is the third highest goal scorer for Argentina, behind Gabriel Batistuta and Hernan Crespo.
47. The Tartan Army have a chant in praise of Maradona for sending their neighbours out of the 1986 World Cup.
48. Maradona on World Cup '98: "The players have all got square feet. They are like Robocops, they have more need of lubricant than massage. I don't believe the tournament could be worse."
49. The IIMSAM (Intergovernmental Institution for the Use of Micro-algae Spirulina Against Malnutrition) appointed Maradona as its Goodwill Ambassador in 2006.
50. In a book on Maradona in 1997, Argentinian psychologist and author Gustavo Bernstein noted: "Maradona is our maximum term of reference. No one embodies our essence better. No one bears our emblem more nobly. To no other, in the last twenty years, have we offered up so much passion. Argentina is Maradona, Maradona is Argentina.